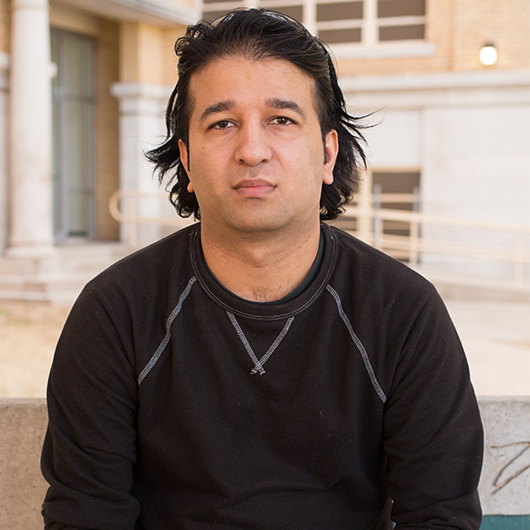 Education
| Degree | Major Emphasis | Institution | Year |
| --- | --- | --- | --- |
| B.S. | Computer Science, minor in Mathematics | University of Science & Arts of Oklahoma | 2003 |
| | | | |
| | | | |
Biography
Adeel is a part of the Information Technology office at USAO and has been a member of the USAO staff since 2004.
Adeel started out as a student worker in the IT department at USAO, and then got a full-time position as computer technician after graduating. Adeel got promoted to Network Specialist in 2005, and was promoted to Network Administrator in 2009. In April of 2018, Adeel was promoted to Director of Network Services. In 2022, he was promoted to Director of Information Technology Services. In collaboration with Redlands Community College in El Reno, OK, Adeel also serves as the Shared Network Security System Administrator for Redlands Community College.
During his time as a USAO employee, Adeel has also taught three classes at USAO as an adjunct faculty member. He also periodically holds professional development sessions at USAO where he trains USAO employees to use the various elements of technology at USAO.
Job duties at USAO:
Network Administration - infrastructure installation, maintenance, security, administration & troubleshooting (including but not limited to: resolving fiber-optic, ethernet, & wireless connectivity issues).
System Administration of USAO's multi-server infrastructure including but not limited to over 40 virtual and physical servers, and enterprises services/software installed on those servers.
Database Administration of proprietary and/or open-source databases used in Higher Education environments including but not limited to PowerFAIDS, Jenzabar, Perceptive Content, Spiceworks, Extreme Networks NetSight, RightFax, and various iterations of databases created in Microsoft Excel and Access.
Active Directory management
Asset Management and tracking of USAO's IT hardware/equipment and software.
Computer services – installation, maintenance and support for desktops, laptops, servers, printers, network devices.
Telephone/PBX services - installation, support, and repair.
Fiber-optic services - deployment, support, management.
Software/Hardware installation and maintenance.
General/Advanced technical support.
EXTENSIVE EXPERIENCE AND EXPERTISE WITH:
Copper/ethernet, wireless and fiber-optic networks (inclusive of hardware implementation/management/administration).
TCP/IP, DNS, DHCP, SNMP, SMTP, POP3, IMAP, NAT, Active Directory, Group Policy, Domain creation, authentication and resource allocation, peer-to-peer workgroups, LDAP, SSH, enterprise-level SSL-VPN implementation, NAC implementation.
Setup of servers and implementation of NAS infrastructure with RAID architecture.
Layer 2/3 network infrastructure implementation.
Extreme Networks switches/routers/controllers and scripting.
Fortinet (Fortigate) firewall appliance.
Inter-Tel/Mitel digital and analog PBX/telephone system.
Server and Desktop Virtualization (Microsoft Hyper-V, VMWARE, VDI).
Microsoft Windows Server 2008/2012/2016 operating systems.
Microsoft SQL Server 2014/2016 (management and script implementation).
Apple Mac OS (10.6-10.13) and Windows XP/7/10 operating systems.
Microsoft Office: 2007/2010/2013/2016 (Windows), 2004, 2008, 2011, 2016 (Mac).
Database creation/management/deployment using Microsoft Excel, Access, and SQL.
Migration and upgrade of enterprise databases (proprietary, and commercially available), as well as servers (physical to virtual, extended, clustering).
Audio/Video hardware deployment/management (including but not limited to: projectors, SmartBoard interactive media, H.323 video-conferencing, digital signage, and video-surveillance security systems).
Jenzabar EX system deployment, management, and implementation of server infrastructure and desktop end-usage.
ANCILLARY SKILLS & CERTIFICATIONS:
Certified Fiber Optic Technician with The Fiber Optic Association, Inc. (2005)
Taught three undergraduate course computer classes at USAO as an adjunct faculty member.
Also periodically holds professional development sessions at USAO where I trained USAO employees to use the various elements of technology at USAO (with emphasis on using Microsoft Excel and Microsoft Access for creating databases, interactive/dynamic spreadsheets, dashboards and performing statistical analysis on large amounts of data).

LANGUAGE SKILLS:
English & Urdu (written and spoken), Hindi (spoken), Arabic (written).