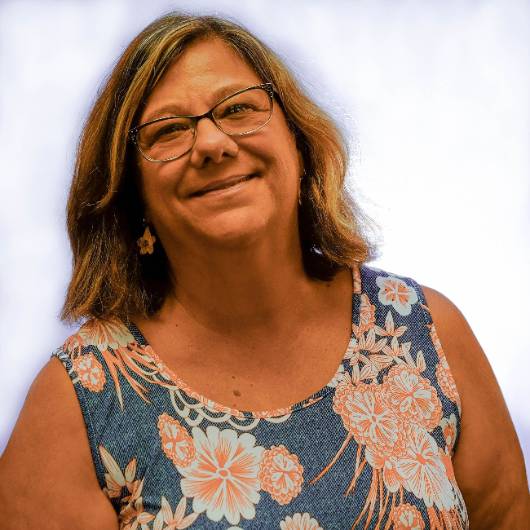 Education
Degree
Major Emphasis
Institution
PhD

English with concentrations in American Literature and Rhetoric and Composition Theory

Dissertation: The Rhetorical Strategies of Twentieth-Century American War Novels

Texas Christian University, Fort Worth

MA

English

Thesis: American Values and Reader Response in The Naked
and the Dead and From Here to Eternity.

University of Texas at Arlington
BA
English
University of North Texas, Denton
Biography
Dr. Brenda Brown is the Dean of the School of Interdisciplinary Studies and Humanities and Professor of English. She has been a faculty member at USAO since 1992. Her areas of specialty include Modern and Postmodern American Literature and Composition & Rhetoric. Brown is a peer reviewer for the Higher Learning Commission and serves as USAO's Study Abroad Coordinator regularly leading students, alumni, and community members on educational, short term study abroad programs.
A member of Kappa Delta Phi and Sigma Tau Delta during her undergraduate years, Brown sponsored the initiation of the latter at USAO in 2007 and continues to sponsor it.
TRAVEL AND STUDY ABROAD EXPERIENCE
USAO Study Abroad Coordinator, 2008-present

USAO Study Abroad Coordinator and Representative, Midwestern University Travel Abroad Consortium, London, 2008-present

Independent Study Travel Abroad sponsored trips—

2019--Italy

2017—Greece

2016—England and Scotland

2014—Berlin, Vienna, and Prague

2013—Costa Rica

2011--Spain

2009—England, Ireland, and Wales

2007—France, Austria, Switzerland, and Germany

2005--Italy

2003—England, Wales, and Ireland
PROFESSIONAL EXPERIENCE
Study Away Committee, Chair, 2012-Present

Curriculum Committee, Chair, 2019-2020

Higher Learning Commission Peer Reviewer, 5 Assurance Review site visits, 2018-present

Contractual Review, Chair, Higher Learning Commission, 2020

Contractual Review, 11 proposals, Higher Learning Commission, 2018-2020

Chair, Gladys Anderson Emerson Research Award Committee, 2016-2021

Peer Reviewer (multi-campus on-site visit), Higher Learning Commission, Fall 2018

Co-Chair, Higher Learning Commission Reaccreditation Steering Committee 2016-2018

Assessment Committee, 2012-2018

Higher Learning Commission representative, 2006-2018

Resource Committee, Chair 2017-2018

Committee on Committees, 2017-2018

Academic Policies and Procedures, 2017-2018

President, USAO Faculty Association, 2017-2018
Research, Presentations & Publications
PUBLICATIONS
"Creating Community in COPLACDigital." COPLACDigital. Spring 2019.

Book Reviews. CrossTimbers. 2001-2006, 2012.

"Region as Text." Oklahoma English Journal. 21(2008): 5-13.

"Girl Power!" Humanities Interview. 25 (2007): .8-11.

"Preparing the New Woman: A Reflection." USAO Alumni Today. Spring 2007. 24.

"Preparing the New Woman." Traveling Exhibit. 2006.
SCHOLARLY PRESENTATIONS
"The Struggle is Read: Characterization in Woody Guthrie's House of Earth." Far West Popular Culture and American Culture Conference. February 2020.

"An American in Paris: Study Abroad." South Central Modern Language Association. October 2018.

"And Time Goes By: A Generational Analysis." South Central Modern Language Association. October 2017.

"Balancing Realities." South Central Modern Language Association. October 2016.

"The Comfort of the Everyday in War Time." Popular Culture Association and American Culture Association National Conference. April 2015.

Chair, "Native American Literature." South Central Modern Language Association, October 2014.

Chair, "War and the Arts." South Central Modern Language Association, November 2013.

"Defining the Beauty of the Grotesque in Sherwood Anderson's Winesburg, Ohio." South Central Modern Language Association, November 2013.

Secretary, "Native American Literature." South Central Modern Language Association, November 2013.

Secretary, "War and the Arts." South Central Modern Language Association, October 2012

"Through the Looking Glass: Depictions of the Dust Bowl in Woody Guthrie's House of

Earth. Woody Guthrie Hootenanny!. July 2013.

"Re(new)al: A Dialogue between Cultures." South Central Modern Language Association, November 2012

"The Beauty of the Grotesque in Sherwood Anderson's Winesburg, Ohio." Festival of Arts

and Ideas, February 2012

"Creative Communication: an Interdisciplinary Approach." South Central Modern Language Association, October 2011

"How a Small Liberal Arts University Can Organize for Success." North Central Higher Learning Commission, April 2011

"(Mis)Fortune: An Administrator's Perspective." College English Association, March 2011