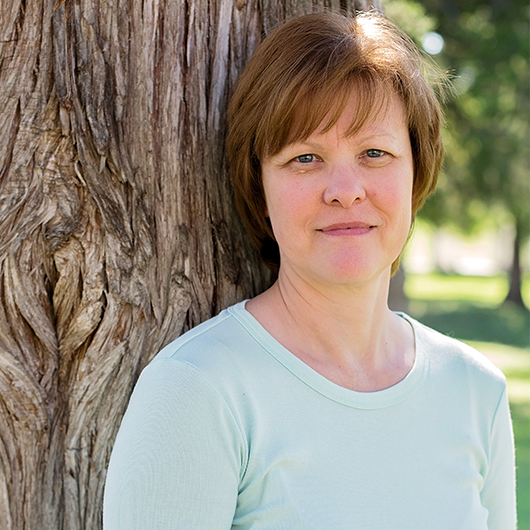 Education
| Degree | Major Emphasis | Institution | Year |
| --- | --- | --- | --- |
| M.F.A. | Sculpture and Drawing | Texas A&M University | 1993 |
| BA | Sculpture and Drawing | University of Science & Arts of Oklahoma | 1987 |
| | | | |
Biography
Jacquelyn Knapp, M.F.A., Professor of Art and Coordinator of the Art Department, has served as a faculty member at USAO since 1988, full-time since 1998 and Art Department Coordinator since 2013. She participated in the Oklahoma Arts Institute for three years and the Chautauqua Institute of Art in New York for one year.
1993 M.F.A. Sculpture/Drawing, Texas A & M University, Commerce, TX (formerly East Texas State University)
1987 BA with Professional Emphasis, Sculpture/Drawing, University of Science & Arts of Oklahoma
In addition to her work in the classroom, Knapp is the Director of the 3rd Floor Gallery, organizes on campus art shows including the Montmartre Chalk Art Festival and Innovations High School Art Competition. She also co-coordinates an annual tour of New York City and plans and coordinates other art-centered trips to Europe and trips to art museums and galleries.
Knapp serves as advisor for Teacher Education Candidates in Art, Drawing, Sculpture, Jewelry, Design, and Advanced Art Majors and Art Minors.
Knapp has been a part of art shows throughout Oklahoma, Texas and New York. Her works Synthesis and Discovered Evolution are part of the permanent collection in Griffis Sculpture Park, Ashford Hollow, New York.
She has more than 20 commissioned works in Chickasha; Lindsay; Verden; Elgin, Illinois, and Colorado. In Chickasha, Knapp collaborated on the buffalo murals at the 1st National Bank, designed and constructed the baptistry at the Southern Oaks Church of Christ, and sculpted the 13 panels in the lobby of the Chickasha City Hall.
Knapp received the Juror's Choice Award by Judge James Surls for her sculpture "Vortex" at the 2015 Seven State Biennial Exhibition and an award of excellence from the Oklahoma Art Guild National Juried Art Show in 2003, a regent's scholarship for the Oklahoma Arts Institute in 2002 and 1996, a competitive academic scholarship from Texas A&M University four times, in addition to multiple awards for her artwork.
Knapp is a standing member of the Oklahoma Art Education Association, currently serving on the board Portfolio Day Director. Knapp has been appointed to the board for the Oklahoma Visual Arts Coalition. Knapp is also a member of the National Art Education Association and the Oklahoma Visual Arts Coalition.
Research, Presentations & Publications
Knapp has presented at numerous fall conferences for the Oklahoma Art Education Association and adjudicated various exhibitions for various schools and arts organizations.