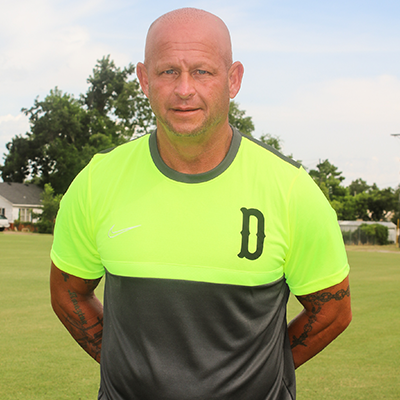 Education
| Degree | Major Emphasis | Institution | Year |
| --- | --- | --- | --- |
| B.S. | Elementary Education | Northeastern Oklahoma State University | 1993 |
Biography
Jimmy Hampton has assembled a model program since USAO hired him to begin the two soccer programs in 1998. Since then, he has built respected teams that are both nationally-competitive and one that is admired by coaches and university administrators across the region.
Following the 2022 season, Jimmy Hampton has won a staggering 627 games (men and women) at USAO, compiling a winning percentage of better than 64 percent (627-295-53). Currently amongst his NAIA peers, he is the 9th winningest women's coach all-time with a record of 298-166-25, and ranks at No. 15 on the men's soccer all-time wins list with a 329-129-28 record.
Hampton has been selected as the Sooner Athletic Conference or NSCA Southwest Region Coach of the Year on 10 separate occasions. In total, Hampton has coached 195 all-conference selectees, 43 NAIA Scholar Athletes, and 41 NAIA All-Americans in his 25 seasons.
Hampton has had 14 different teams (seven men, seven women) that have qualified for the NAIA National Tournament, with quarterfinal appearances in 2010 and 2011. His teams have won the Sooner Athletic Conference regular-season championship nine times, and they have won the SAC tournament championship an amazing 13 times. The men have won tournament championships in 2003, 2004, 2005, 2009, 2011, 2013, 2014, and 2015. Additionally, the men's team won the 1998 and the 1999 Red River Conference championship. The women earned conference tournament championships in 2001, 2002, 2011, 2015, 2017, 2018, and 2019.
Prior to joining the Sooner Athletic Conference, Hampton guided his teams to Red River Athletic Conference championships in 2001 and 2002 in the beginning of the program's development.
Before becoming USAO's first soccer head coach, Hampton spent 10 seasons building championship-caliber teams at Chickasha High School. Since 1994, Hampton and the Fightin' Chicks collected five state 4A championships. His boy's teams won back-to-back state championships in 1995-96, one in 1999, and another in 2002, while his girls won the 1998 crown.
In his 10 years at CHS, Hampton won nearly 90 percent of his games, and he ranks as one of the all-time winningest soccer coaches in Oklahoma prep history. He is one of the few soccer coaches in the southwest to obtain a national "A" coaching license from the United States Soccer Federation, which is a credit to the quality of his coaching ability and techniques.
Additionally, Hampton serves as the Director of Coaching for the Oklahoma Energy Football Club, and he has led the program to 10 state championships in 10 years.